Fee Summary
At Mogan Shopping, we strive hard to minimize your shopping fees. Below is a checklist of required and optional (conditional) fees. Please click the read more link for details on each type of fee.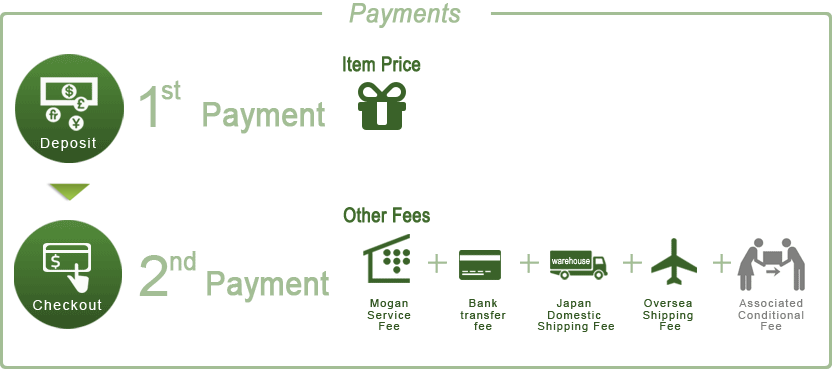 1st Payment: Item Price

Auction Winning Bid or Shopping Item Price
read more ...

2nd Payment: Other Fees

Mogan Shopping Service
read more ...
Bank Transfer
read more ...
Japan Domestic Shipping
read more ...
nternational Shipping & Delivery
read more ...

Associated Conditional Fees

Credit Card Fees
read more ...
Sales Tax
read more ...
Repackaging Service
read more ...
Cargo Insurance
read more ...
Storage Fee
read more ...
Any other conditional cost
read more ...

Optional

Required
Fee Calculator

Under each item page you will find several tools of which Calculator is one. This tool is particularly useful when preparing your bid and/or buy shopping deposit by estimating the overall fee required across payment 1 and 2. To tryout our calculator please click HERE.
Note:The amount of your bid will be credited back to your Mogan Shopping account as soon as you have been out-bidden. You may choose to leave your deposit in your Mogan Shopping account for future auction bidding, or withdraw your deposit by applying a refund.

Suggestions
You think this page helpful?
Yes No