My Categories
Using My Categories to help my search: • Save time with quick reference links to your favorite categories. Click "My Category", at the top of the page, to view your list of favorite bookmarked category pages. To add to your 'My Category' list, simply click on the 'Add to My Category' button directly above the displayed items, near the top of the page) in the category page you wish to bookmark. • You can then view the bookmark by clicking 'My Category'. If you did not see your new bookmark, please press F5 to refresh the page.
• Each bookmark includes a delete option, a label, the auction/shopping mall icon and the category name.
• A category page can be bookmarked into 3 types of labels depending upon the condition of where the page was bookmarked. These label classifications include: by search, by classification (via navigation) and by seller ID.
• These bookmarks will remain there after signing out. If some of your bookmarks become redundant, there is a delete option to remove them.

Favorite Categories
You can access your favorite categories by clicking on "Add My Category". You can then review all items of this category when you next time sign up.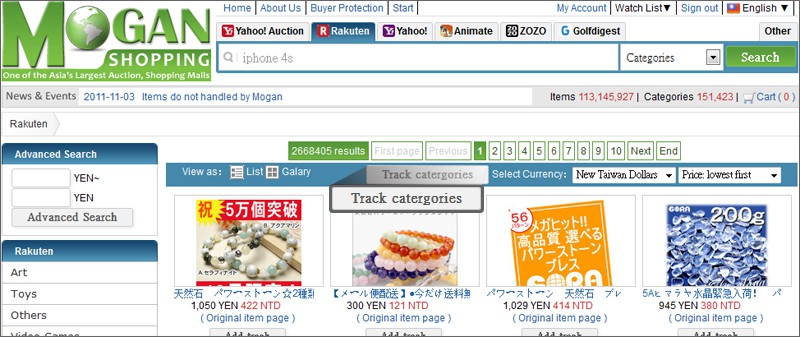 Favorite Keyword
You can search your preferred keyword, such as brand name, to view a category page that includes a range of useful keyword search terms. You can then bookmark this page via the "Add to my Category" button. Thus, you can search across all the associated keyword terms when you next sign up.

Favorite Seller's ID
When you find some store items you are interested in. Simply click the "Add to my Category" button at the right side of the item page. You will be able to view all the seller's items when you next sign up.

Suggestions
You think this page helpful?
Yes No